I've a friend of mine complained about how Ubuntu and other GNU/Linux distro boots slowly compared to Microsoft Windows. I told him this is because Ubuntu and other GNU/Linux distro tend start services that generally safe for average users.
He then told me about how he can customise Windows XP startup process and disable the services that he don't use. Actually there's a way to do that in Ubuntu too. Just go to System->Administration->Services, and disable whatever services that you don't need .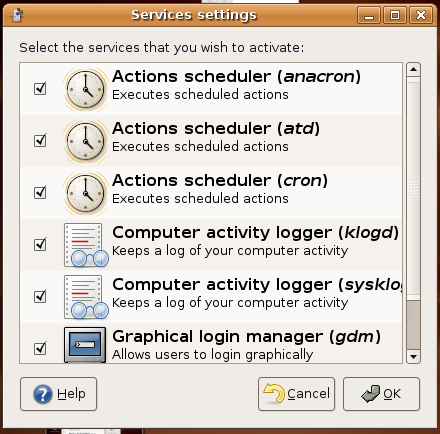 However power users might find that the Services control panel in Ubuntu is very limited. For those who felt that way may try and remove the symbolic links inside /etc/rc5.d/ directory.
Warning
Caution should be taken while playing around with the init scripts because it may make your system unbootable.
To do this, you just need to delete the associated service startup file that begin with 'S' inside /etc/rc5.d/, for example if you want to disable bluetooth services you just need to delete the 'S25bluez-utils' file like this :
# sudo rm /etc/rc5.d/S25bluez-utils
Please refer to Speed Up Ubuntu Boot Process article, for more information about this method.
p/s: personally, i only disable services that i'm really sure that I don't use. You may follow the advice given in the link, just hope that you dont over-optimise it, might be bad for your daily usage.
[tags]ubuntu,boot,windows xp, services, linux, booting, debian, gnu/linux[/tags]