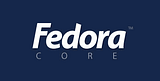 A dig in Fedora Core developers mailing list revealed that Fedora Core 4 (Stenz) release have been delayed to 13 June 2005.
Fedora Core is Red Hat sponsored community developed GNU/Linux distribution based on the previously free Red Hat Linux distro. You can find more information about this project at Fedora Project website
You can find about Fedora Core 4 release delayed annoucement here.
p/s : I'm not really a fan of Fedora Core/Red Hat distro. But i'm looking forward to test my first Fedora Core release with FC4 (Steinz)