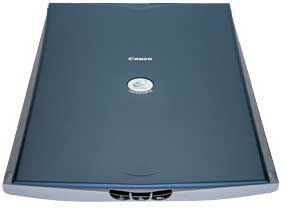 Since there are so many people at my house need to use scanner for day-to-day stuff (actually only my sister). So we decided to get a Home/SoHo scanner, and naturally i'm the one who got to choose.
Browsing through few stores and places in Alor Star, finally i came across this entry-level SoHo Canon LiDE-20 model. It priced about RM220 at one computer shop at one shopping complex, but i decided to pass it down and bought the similar model in another place which doesn't require high-maintenance bills, and it only cost my father RM195.
For starters, the scanner's operation is straight forward. Once you installed the required software drivers in Windows XP the scanner is hot to be use (ok, nothing special about that, it's normal with M$ Windows). But for a small price to pay, this scanner really roxx! It's quick, responsive and have intelligent cropping feature that automatically separate items that i scanned together (to save time of course).
The scanner is slick and slim, and it features 3 button "Scan", "Copy" and "Email", and those buttons are configureable in it's accompanying software driver which I promptly modified the "Email" button to do OCR.
After having fun setting up the scanner for my sister, only then i remembered, "Oh my god, how about Linux? I haven't check the compatibility list before buying this out!".
Fortunately, most (and i do mean most) of the USB devices now in Linux are just plug-and-play. It's kinda hard to find USB devices without drivers in Linux nowadays. The Canon LiDE 20 is supported in Linux as I boot them! Well, at least on FC4 and Mandriva 10.2.
The scanner driver from The Sane Project works nicely, and theres no difference at all whether you scan your documents from M$ Windows or GNU/Linux.
For those who are interested in getting new hardware for your Linux pc I think the link below would be some help. Remember choose only hardware which have Linux driver with it, talk with your pocket :
1. Scanner Database
2. Digital Camera-PTP Mode, Mass Storage is always supported.
3. Webcam
4. WiFi
5. Bluetooth
6. Sound Cards
7. Network card
8. Most of Nvidia and ATI Graphic Cards (for 3D Gaming)
9. Almost all USB Mass Storage Device (Pendrive, HDD)
If you are lazy enough to check one, by one, then i suggest you to drop by Mandriva Hardware Compatibility Database. Check whether your hardware is supported by Linux. cheers…
Note : Some of the item of this list (notably no 4,7,8,9) are outdated, please be advised. Other item are maintained by their respective driver project.
Recommended Product
The CanoScan LiDE 20 USB flatbed scanner is one of the world's most compact flatbeds, yet it offers big performance and big savings. Just over an inch high, it packs all the features you need to scan images, copy documents, and e-mail your favorite photos, all with one-touch operation.