Whoa, seems I have a quite a few of freebies invitation to pass around right now, and they are :
Gmail

Gmail is a free, search-based webmail service that includes more than 2,500 megabytes (2.5 gigabytes) of storage. The backbone of Gmail is a powerful Google search engine that quickly finds any message an account owner has ever sent or received. That means there's no need to file messages in order to find them again.
30Gigs Email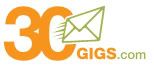 30Gigs.com started off with the idea of creating a "All in one" site for the webmaster and avid computer users. Combining personal file storage, GD2 signatures and anonymous email all in one service, which would be free. Our main goal is to increase our space even further, to 50 gigs, or maybe 100 as time goes on. 30Gigs.com is still in a very heavy beta, and if you are a member, please help us to make it the best mail server there is. We will be offering a section for personal file storage (up to 30 gigs) and a GD2 signature maker to keep your email safe from spam robots. We also offer a unique feature, which allows you to send a email from any address you want. This is very usefull if you have multiple accounts linked to your 30Gigs.com account, and want to send a email from john@otherservice.com so you dont confuse the sender. Any further information can be addressed to support@30gigs.com.
And finally,
MsjBox


MsjBox is one of the best shoutbox that I ever use personally, created by a fellow Malaysian, Mr Junaidi. Msjbox spots many functionalities that can't be found in most of the shoutbox free services. Some of the most nifty features are :
IP logging/blocking
Color Customization
Easy Installation
Message Limit (flood control)
Popup replyfunction
Invitations
Auto-refresh
Extended Smilies
User Avatar
Multipage shoutbox functionality
Easy to use control panel
Easy to remember BBCode-like shortcuts
So please contact me if any of you folks want to be invited to use the services.